Did anyone catch that pun?  I like to have fun with words when I can.
Last weekend we survived a night with 9 fifth grade girls at our place for my daughter Savana's slumber party.  The celebration was often loud and a bit rowdy at times.  I even had to chalk over a bunch of sidewalk messages a couple of the girls scrawled for their male classmate who lives down the street.  But I must say I was pleased with the girls' overall civil and polite behavior and their willingness to participate in the night's activities.
The one thing that struck me the most, though, was the abundance of homemade birthday cards.
When it came time to open presents, the girls gathered in the family room and started passing the gifts around the circle, chanting some lyric I had never heard and have since forgotten.  My wife would say stop, and whichever gift Savana was holding would be the next one to be revealed.  Savana enjoys reading each card aloud before focusing on the gift.  I expected to see a couple of homemade cards.  To my pleasant surprise, every card but one was created by the young guests. Sorry Hallmark.
I think my daughter has chosen her friends well.  Savana is definitely the artist in the family, spending much of her free time on a variety of arts and crafts projects.  She is always the first to create a card from scratch for family members.  When we visit my mother in Folsom, Savana makes a bee line to Grandma's craft drawers.  I was quite touched that nearly all of Savana's friends took the time to express their birthday greetings with their one-of-a-kind card creations.  These girls truly appreciate the sincerity and power of artistic expression.
EVERY CHILD IS AN ARTIST – Picasso
I believe everyone is born with artistic talent of some sort.  This talent needs to be explored and nurtured during the early years, though, to be realized.
Art is both expression and creation.  Through artistic play, a child discovers there are multiple ways to express a sentiment or idea.
Likewise, there are usually multiple ways to interpret one's artistic expression.  Such play experiences go a long way in supporting the development of divergent thinking, the ability to look at a problem or situation from different perspectives and to devise multiple possible solutions.  Divergent thinking will be required to overcome many of the world's seemingly impossible challenges.  Climate change, space exploration, feeding the world's population, battling new pathogens, peaceful co-existence to name a few.
Through artistic play a child also discovers the freedom and power to create, to transform materials into something completely different, to make the imagined REAL. 
The artistic process develops a child's ability to think both creatively and critically.  No matter the artistic medium, the imagination gets a healthy dose of exercise with each endeavor.  And as a child begins to shape an expression into a tangible creation, the logical reasoning side of the brain kicks in, determining the action steps and components needed to complete the creation.
Kathleen Sebelius, former US Secretary of Health and Human Services, tells us that neuroscience research shows strong connections between arts learning and improved cognitive development.1
A study by Americans for the Arts concluded that students who take four years of arts and music classes average almost 100 points higher on their SAT scores than students who take only one-half year or less.
A joint study by Stanford University and Carnegie Foundation for the Advancement of Teaching2 reported that young people who participate in the arts for at least 3 hours each week are:
• 4 times more likely to be recognized for academic achievement
• 3 times more likely to be elected to class office
• 4 times more likely to participate in a math/science fair
• 4 times more likely to win an award for writing
• 4 times more likely to perform community service
The Burton study of more than 2000 children found that those in the arts curriculum were far superior in creative thinking, self-concept, problem-solving, self-expression, risk-taking, and cooperation than those who were not.3
A 2005 report by the Rand Corporation about visual arts posits that the intrinsic pleasures of the art experience can connect people more deeply to the world and open them to new ways of seeing, creating the foundation to forge social bonds and community cohesion. 
Despite the many reported developmental benefits of artistic participation, opportunities for art have diminished in our classrooms the past couple of decades, completely nonexistent now in some schools.  And in many homes, organized sports, video games, mobile devices and televised entertainment have pushed artistic play out of children's lives during their formative years.  One result, reported by Kyung Hee Kim, is that creativity among school children has been on the decline the past 25 years.4 
WHAT CAN WE DO?
We as parents can help reverse this trend by providing frequent and rich opportunities for artistic play for our children right in the home.  Many families enroll their children in music and dance classes.  I am a strong proponent of the performing arts, but just as important are the visual arts & other fine arts.  Discovery Toys offers a number of high quality and engaging products to promote artistic play.
Toddlers and preschoolers can trace, stencil and stamp with Place & Trace.  Measure Up!® Cups and Measure Up!® Pots & Spoons can be pressed into play dough for a variety of fun designs.  The Coloring Book of Cards and Envelopes offers custom cards for up to 24 folks.  Decorate with actual pieces of nature with Flower Press. 
Older kids can magically transform painted designs into stylish stickers with Draw, Paint & Stick.  Style It! Cord Bracelets weaves up to 4 cool personalized bracelets.  Kids can channel their inner Steven Spielberg or Ron Howard with the Movie Maker.  Artists of all ages will have a blast coloring and sketching the pages in Fill-Me-In.
Discovery Toys also offers a host of musical play products, as shared in my last blog: Music Feeds The Mind & Soul.
I leave you with this wonderful quote:
"Art has the role in education of helping children become like themselves instead of more like everyone else." – Sydney Gurewitz Clemens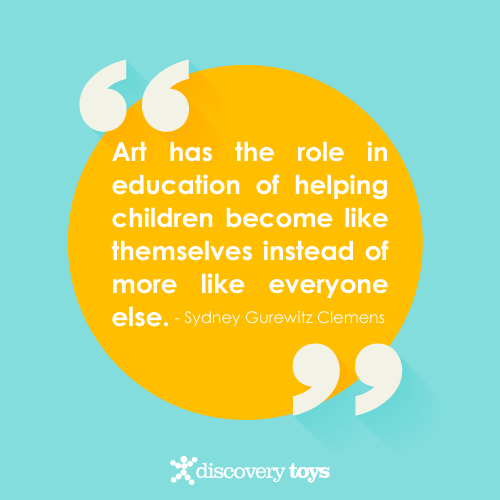 Sources:
1 The Arts and Human Development: Learning across the Lifespan, 2011.
2Living the Arts through Language + Learning: A Report on Community-Based Youth Organizations, November 1998.
3Burton et al., 1999.
4Kyung Hee Kim, 2011.