"Music is a more potent instrument than any other for education, because rhythm and harmony find their way into the inward places of the soul." – Plato
The exceptional moments of silence certainly bring relief and relaxation to our home, but I prefer the rat-a-tat-tat of my son's drum practice in the living room, or the disjointed melodies keyed by my youngest on the piano, or the guitar strumming and booming vocals emanating from my oldest daughter's bedroom.  The sound of music is alive in the Garber household!  Albeit the genes for music are well rooted in my wife's bloodline, the affinity and joy for music in our home grew from an introduction very early in our children's lives.
The research supporting the importance of music for early childhood development is abundant.  Here are just a few findings…
Music instruction appears to accelerate brain development in young children, particularly in the areas of the brain responsible for processing sound, language development, speech perception and reading skill. The Brain and Creativity Institute at USC, 2017

Early music education for 4 to 6 year olds leads to improved performance in verbal intelligence. Rotman Research Institute, Toronto, CA 2011

The reading skills of 2nd graders who receive structured training in music are superior to those of their peers who do not have the benefit of such instruction. Long Island University, New York, 2009
So now that we have established the significant developmental benefits of music for children, when is the right time to start?  As soon as they are born says I.  We frequently played music across all genres at home and in the car when our children were infants (and still do!).  We outfitted them with musical rattles and infant toys.  Our toy collection included drums, xylophones, horns, guitars, maracas, and a keyboard.  My wife would play the piano and sing (remember, she has the right genes).  Musicals, whether animated or live, were a frequent source of entertainment.
Daniel Levitin, Ph.D. and author of This is Your Brain on Music, tells us that a child's brain is prewired to learn music, just as it's prewired to learn language.  In the same way that babies go through a period of babbling before they learn to speak, they also babble musically. Singing to babies, or patting their backs or rocking to music, can help strengthen their musical pathways in their brains.
You might assume it's best to choose classical music or lullabies, but almost all music is baby-friendly. "If you play music that you enjoy, you'll have more fun listening and singing along with your baby," says Dr. Laurel Trainor, director of the McMaster Institute for Music and the Mind in Ontario. I don't think it's coincidence that much of the music that my peers and I enjoyed in the 80's and early 90's has found a resurgence with today's youth.  My kids and their friends readily recognize the music of Journey, U2, Madonna, Bon Jovi, MC Hammer, Fresh Prince, Celine Dion and others.  Plus, Dr. Trainor's studies have found that babies who move rhythmically to music smile more, are easier to soothe, and are more willing to explore their environment than babies who simply listen.
What can we do?
Discovery Toys has a number of wonderful musical products to help ignite and strengthen connections in a young brain and to inspire a young soul.  Chiming Charlie, Sensory Sights, Rockin' Roller, and Stack Roll & Jingle can all produce a chime or jingle sound.
Once your newborn can grasp and shake an object, introduce the Rainfall Rattle, a perfect 1st musical instrument.
---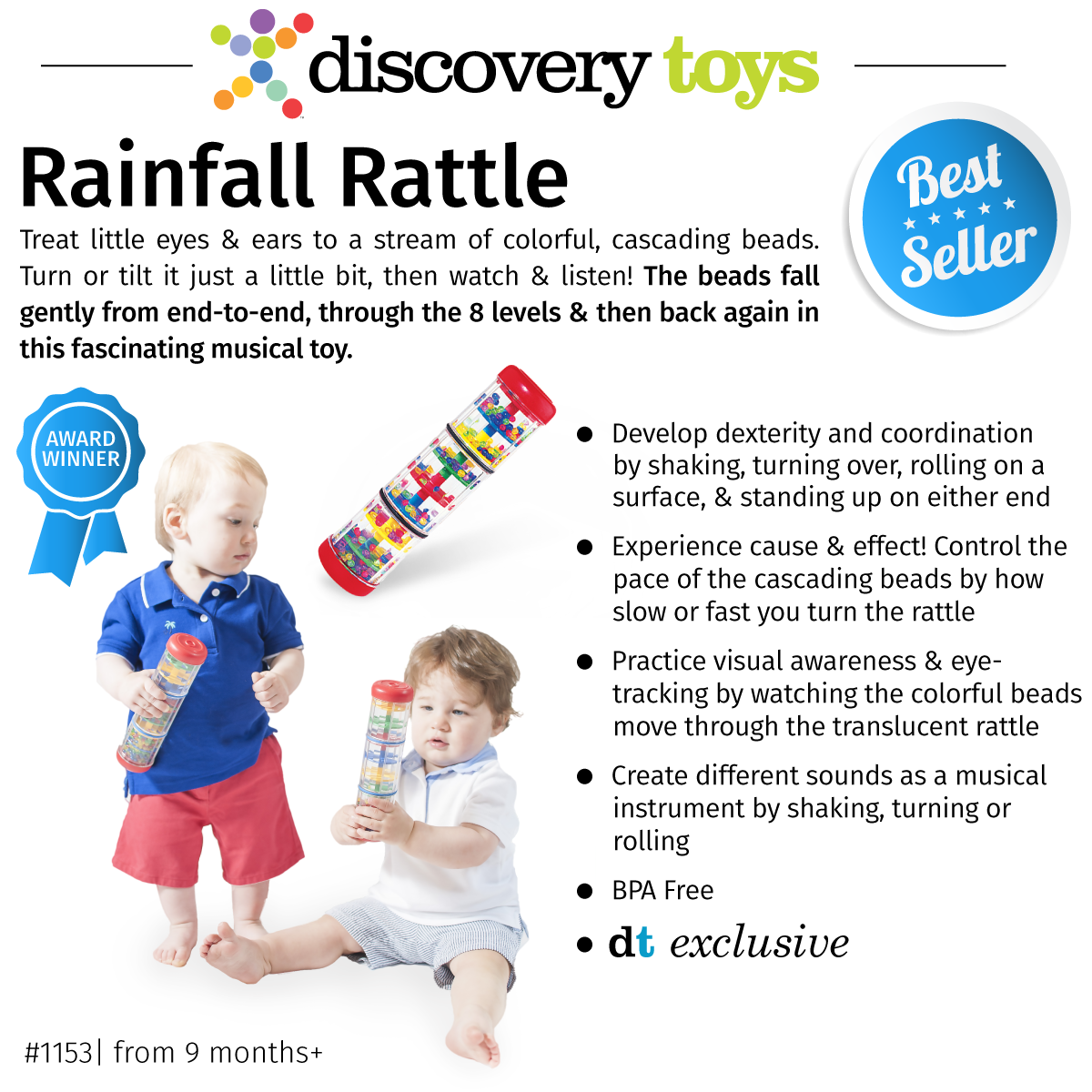 ---
Preschoolers can build their own whimsical tootin' horns with Pipe Works. 
---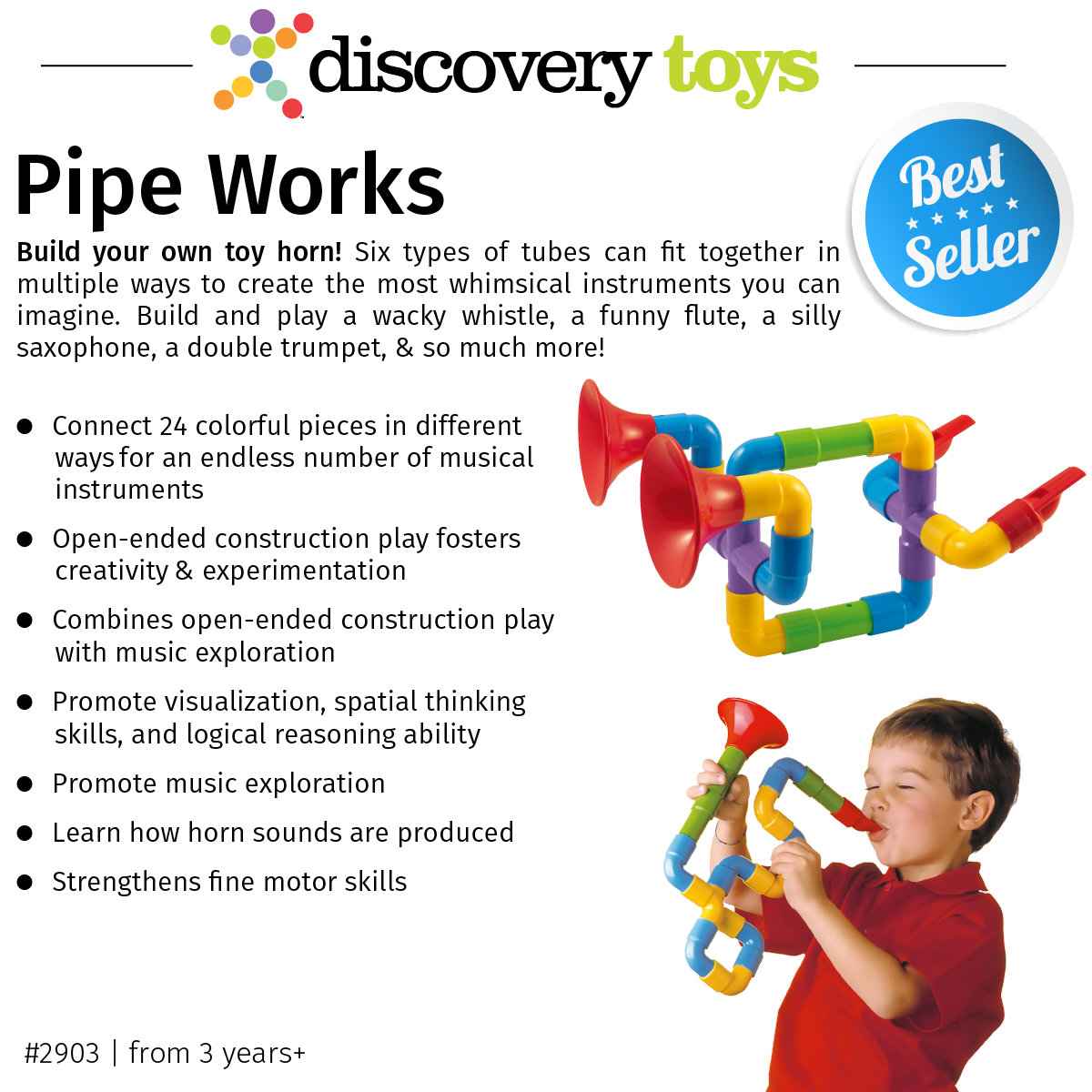 ---
They can play familiar tunes or compose their own with C Major Xylophone.  If more striking is the attraction, Percussion Jam and 5" Triangle can entertain for hours.  The 8-note octave Learn to Play Harmonica is a wonderful, easy to use introduction to reed instruments.
---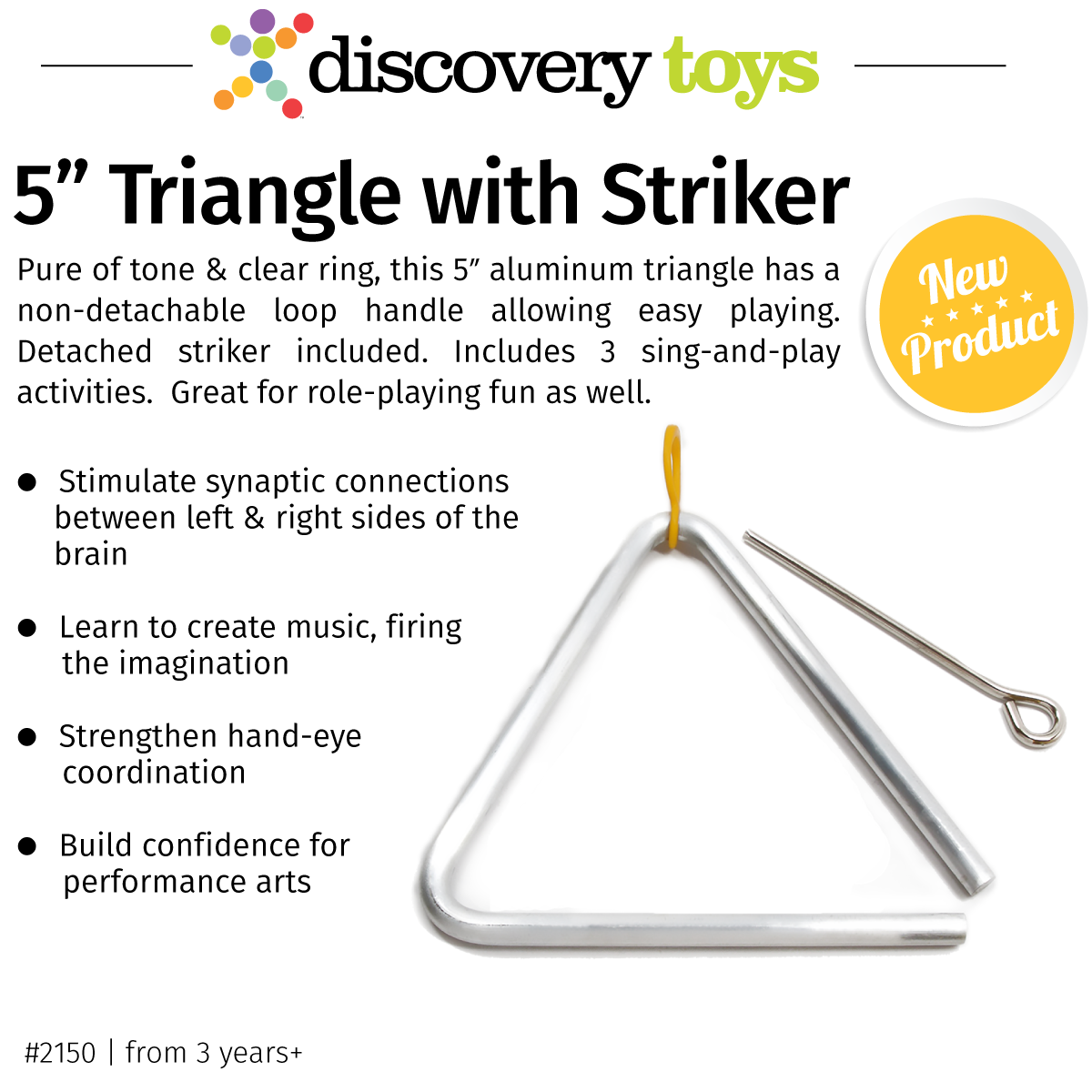 ---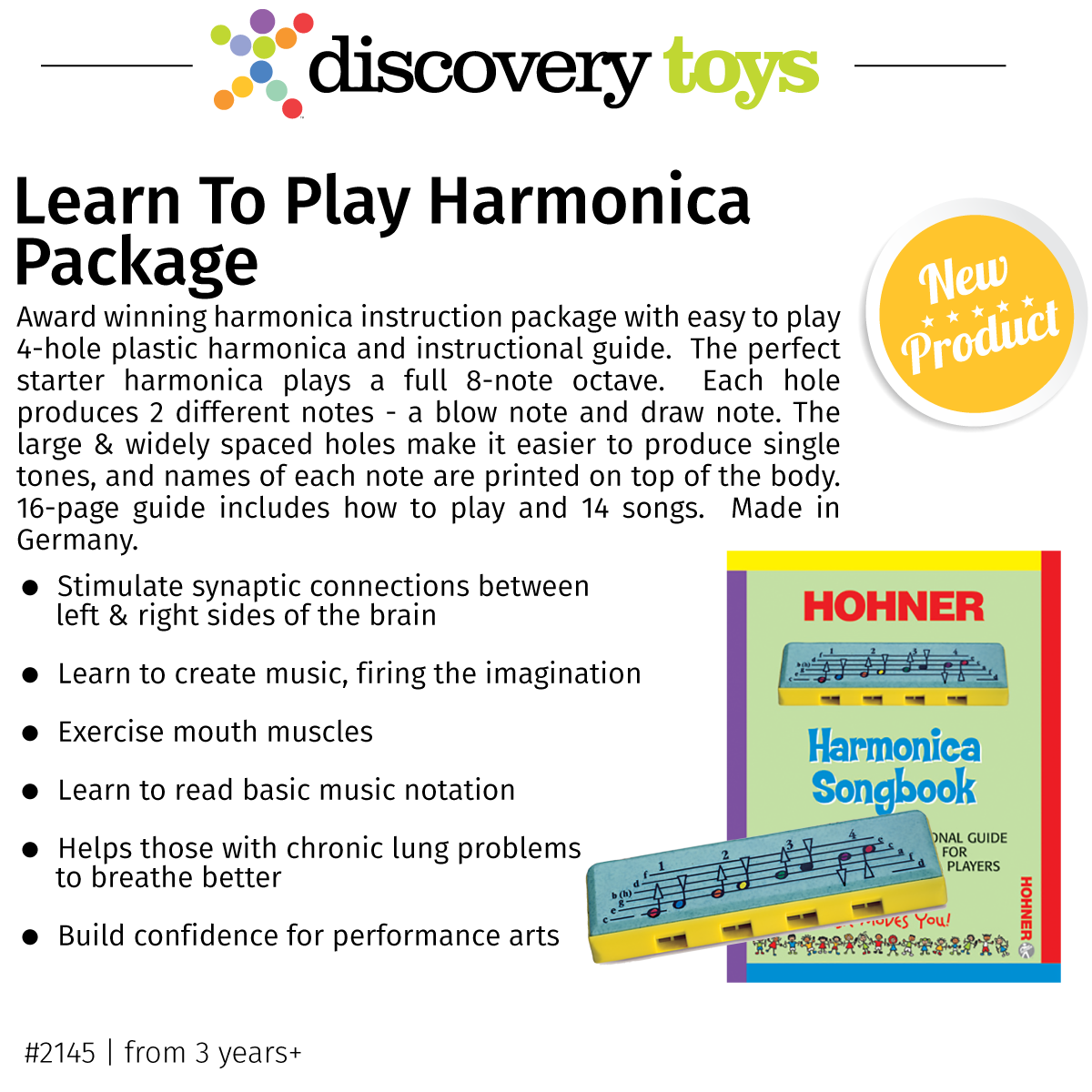 ---
In my house you can't have music without also having movement.  Aside from the obvious physical benefits, dancing to a beat strengthens the neural connections to rhythm, aiding in differentiation, recall and expression.  A few days ago my 3 kids asked me to play the "Try Not to Sing Along or Dance Challenge".  I held my composure through the first few songs.  But then my kids busted up in laughter when I jumped from the couch & launched into my dance rendition of MC Hammer's "Can't Touch This".
So no matter your musical tastes or preferences, fill your house with music!  And encourage your little ones to create their own.  For music feeds the mind and the soul.