Our kids are playing less than any previous generation. Open ended play and unstructured time are being reduced inside and outside school, and our children are spending huge amounts of time on video games and other media.  As a result, our kids are not developing critical 21st century skills such as collaboration, creativity, problem-solving, resilience and empathy, that they will need to succeed as adults in the global economy.
It's a proven fact that children learn best through Play. Play is where children develop the skills necessary to become successful adults. This year our children need the gift of play more than ever. Providing a quality toy that promotes play as a gift this season is one way to help. 
We put together the following guide to help parents identify toys that provide for quality play and toys that should be avoided.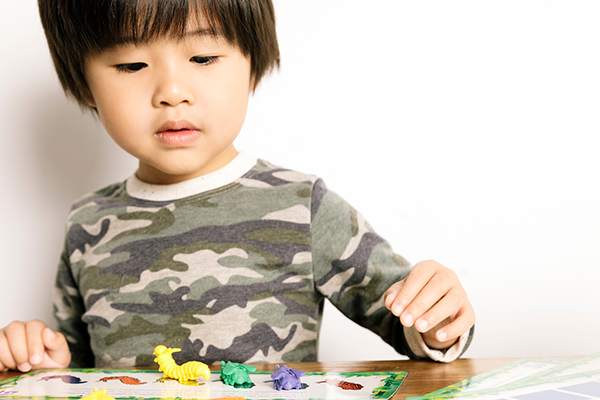 A quality toy lets children make decisions about their play
Look for products that offer hands-on play that puts the child in charge of the learning. Play that is child-initiated, child-controlled, and open-ended allows and encourages children to process information and to make sense of their world. Any toys and games that help facilitate this mode of play are a plus. Discovery Toys are KID POWERED, unplugged and are not linked to video games, computers, TV or movies.
A quality toy can be used in many ways
Seek out toys that provide multiple layers of learning and exploration. Toys should engage the child's multiple senses and multiple learning styles and empower the child to grow and advance with the product. Sadly, many toys on the market today do not support multiple skills and learning pathways. Discovery Toys have LAYERS OF LEARNING that provide multiple ways to play and learn and most importantly, help grow with the child.
A quality toy encourages quality play
Find toys that provide an opportunity for children to learn! The best toys engage a child's senses, spark their imaginations and encourage them to interact with others. Look for toys that encourage physical, cognitive & social development. Toys such as blocks to encourage motor skills. Puzzles and games that inspire problem solving, curiosity and discovery. Make-believe toys that develop good social skills and enhance emotional well–being. 
HIGH TECH & INTERACTIVE DEVICES
Our children are consumed with video games and other media. Avoid giving them more this Holiday Season. The American Academy of Pediatrics recommends children and teens should engage with entertainment media for no more than one or two hours per day, and that should be high-quality content. Television and other entertainment media should be avoided for infants and children under age 2.
FLASHY TOYS WITH LIGHTS & SOUND
Generally, the simpler the toy is, the better it is for your child's developing mind. Flashy toys are appealing and may temporarily entertain, but they limit creativity and discovery which are important building blocks of development and learning.
TOYS & OTHER ITEMS BASED ON TV SHOWS
Even though children want toys that are based on characters from TV shows or movies, such toys limit imagination as children often just try to imitate what they have seen instead of creating their own play. Experts also warn that such toys can encourage consumerism and unhealthy food choices.
OTHER TOYS TO AVOID
Avoid toys that can only be used in one way encouraging all children to play the same way. Avoid toys that do the playing for the children, instead of encouraging exploration and mastery. Avoid toys that promote violence and sexualized behavior, which can lead to aggressive and disrespectful play. Avoid toys that separate girls and boys with highly gender specific toys.  
Toys are more than just fun and games for kids. They are the tools they use to learn and grow…
When doing your holiday shopping this year, take care to consider the value of the toys. Inspire a new way to shop for children's play things, as they are so much more than just toys.
We at Discovery Toys specialize in premium quality learning-through-play products for children of all ages. Our products deliver a hands-on, multi-sensory, child-directed play experience and invite parents and caregivers to participate in the fun. Every Discovery Toys product incorporates rich layers of learning that sustain engagement and empower children to grow and advance. We take great pride in our long-standing reputation for quality and safety.
Have a question about Discovery Toys?
Want to earn FREE & HALF-PRICE toys?
Discovery Toys Holiday Cut Off Reminder*
Please note: These recommended in-house order dates are based on the West Coast delivery times (and good weather conditions) from DT's warehouse in Indianapolis, IN. Depending on the order size, how close the location you are shipping to is from the warehouse, and if it is shipping directly to the customer – you may have a couple extra days leeway.